Skateboarding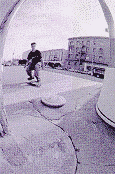 Bobby Puleo: Backside Flip
______________________________________________________________________

I have been skateboarding for 5 years and I love it. It has got to be one of the most difficult
sport on earth, but also one of the most rewarding. Nothing else feels like stomping a fat trick on a skateboard, nothing! But to be good at skating, I mean real good, you have to live, eat, and sleep skateboarding. Most people do not have the willpower or drive to do this, and take the constant harassment of the cops. I live in San Luis Obispo, and cops always harass me for skating. We
have a park but it is barely ever open, and it is illegal to skate on public property. Skating
is definitely a fringe sport because barely anyone can appreciate it. For those who can, I give
you my video page!!!!! Be prepared to be amazed!
_______________________________________________________________________
Skate Videos
"New Clips"
I finally got off of my lazy ass and got some new videos to put up. A lot of them were taken off of other sites, but who cares, they are here for the watching.
| | |
| --- | --- |
| Ronnie Creager | This kickflip is soooooo big! |
| Ronnie Creager | Nose-Bluntslide to 360 out. I wish I could do this! |
| Kerry Getz | Long backside 5-0 at the Mike Carroll spot in SF. |
| Kerry Getz | Kickflip down a big set of stairs then a 180 down a bigger set. |
| Kerry Getz | Backside 180 over a rail the hard way, and smooth as butter. |
| Kerry Getz | Lein Grab gap to kickflip off a drop at the Civic Center in SF. |
| Daewon Song | Heelflip nosemanual across a pad and down a bank. Nutz. |
| Tom Penny | kickflips a tabletop to backside tailside the other side!!!! |
| Tom Penny | Nollie backside-kickflip over a chain and down a bank. |
| Eric Koston | A kickflip Indy grab in a Europe contest. |
| Eric Koston | Switch Frontside 270 Heelflip. Holy shiiiiiiiiiiiiiit!!!!! |
| Chet Thomas | Hardflip to backside nosegrind. That is skillz. |
| Chet Thomas | His signature move, fakie hardflip-late-180. This one on a bank. |
| Chet Thomas | Fakie 360 down a double set of stairs. |
| Andrew Reynolds | Backside 180 lein grab out of the Bro Bowl. |
"How To"
I know that a lot of people reading this have these tricks dialed, but some might need some help. These tricks come along with audio voice overs of the skaters explaining the tricks, but they mostly explain the obvious. Oh, well!
| | |
| --- | --- |
| Ollie | The first trick you need to learn! |
| Kickflip | A basic trick that all skaters need to know. |
| 360 Flip | Arguably the tightest looking flip trick. |
| Backside flip | A stylish trick that is not too hard. |
| Frontside flip | More difficult than a backside flip. |
| Tony Hawk Line | Now that you have some basics, try this line. |
Birdhouse -Watch Tony Hawk, Andrew Reynolds, and crew tear
it up! For you impatient fools I have preview clips below!
| | |
| --- | --- |
| Tony Hawk | Watch Tony defy gravity!!!!!!!! The full pipe footage. |
| Jeremy Klein | Ollie on a makeshift tabletop. Burl!! |
| Ali Cairns | Cabballerial backside smith 180 out, and I can't even drop in on vert. |
| Heath Kirchart | Crazy!! Kickflip backside lipslide, on a big rail. That is one risky maneuver if he is considering having kids! |
| Andrew Reynolds | Andrew rips!! He kickflips a huge set then immediately busts a backside 180 down another big set. |
| Brian Sumner | This kid throws together A good run at a skatepark. |
Toy Machine "Jump off a Building" Clips
(from the Toy Machine webpage)
Random Video clips
_______________________________________________________________________
Danny WAy
Danny way is such a pimp that he gets his own section.
These pictures below are animated so just click on them to watch
Danny Way bring skating to a new level of insanity!!!!
I got these animations from Transworld. Click on
hyperlink above to view the article that goes along with the pics.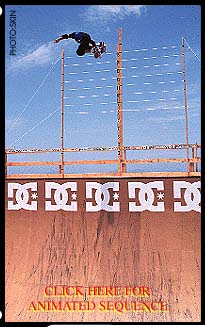 World Record Air of 16.5 feet. Yes, Danny is jumping out of that helicopter!
________________________________________________________________________
Skate Video Sites
(remember to come back here after visiting them)
Girl -All I have to say is that Eric Koston does a switch backside180 nosegrind on a handrail sized ledge. Check this site out right now!
Chocolate -Footage from the upcoming video. Lots of good clips.
Toy Machine -Clips from the "Welcome to Hell" video.
MTV Music Fest -These are cool mixtapes of the music fest.
Good clips, I think they came straight from the broadcast.

_________________________________________________________________
My skate links
-This is a search engine for skateboard pages, go here first!
DansWorld Skateboarding -Cool page with a good picture section and skateboard articles.
Transworld Skateboarding -Has photos, back issues, interviews, and a skatepark listing!
Tum Yeto -The home of Toy Machine, Foundation, Zero, and more, a big page!
Deluxe Distribution -The home of Real, Thunder, Spitfire, and more. A great skate shop!
Skatepark Listing -Find skateparks in your area and in places you are going to visit.
Skate Corner -This site has good animations and a dedication corner to Phil Shao.
Legal Skate -This is a site that has resources so that you can get a skatepark in
your town! I know that if you don't have a park then you want one, so go here now!
SkaPunkSkate- A silly name but a huge site with bands, skate chats, animations, ramp plans, and
much more. This is a site for real skateboard enthusiasts.
A-1 Skateboarding- This site has really good videos in their pro section. It has profiles on Kerry Getz, Daewon Song, Eric Koston, and more....



This is supposedly the biggest skate page on the net, and I agree it is HUGE!
Check out his links they are very comprehensive.
Artwork Home Snowboard Links Music Real Audio

Updated: 3/11/99