Snowboarding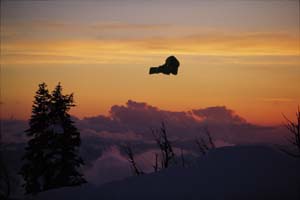 ---
"Snowboarding is just an excuse to suck at skateboarding!" -Todd Richards
I don't necessarily agree with Todd on that, but it is true that snowboarding is a lot easier than
its brother skateboarding (check out my skateboarding page.) Now the snowboarding season is over and I only got like 11 days in! I guess that is the price you pay for living on the central coast. Anyway, it was a pretty good season and I got a few powder days in and I hope all of you did too. I know I have been lazy and neglected this page for awhile so I am putting up some new animations for your viewing enjoyment.
---

Most Videos Use Quicktime
(click above to download)
Ingmar Backman's super kicker video
Ben Hinkley doing a double front flip
Kevin Jones 900 at summer X-Games
Jim Rippey doing a flip by the same name
Jimmy Halopoff does a clean 540
Daniel Franck's huge rodeo flip
Mike Beallo -This guy comes from Piedmont (a neighboring town to Oakland) and had his jaw wired shut after landing on his face trying a double backflip. I guess he now has it dialed!!!!!
Mike Beallo -Another double backflip. What a trick!
Jason Borgstede -The last time I did a 1440 it was on Coolboarders 2. Jason Borgstede can do them in real life! What a player!
Jamie Macloud -Jamie Macloud's winning frontside 360 at Mammoth's Big Air competition.
Josh Dirkson -A buttery 900 at the same competition.
Mike Michaelchuck -Smooth 720 with what I believe is a stalefish grab.
Daniel Frank -You gotta love Daniel Frank, the guy is so damn good! 180 of death!!!
Daniel Frank -Here you can witness Frank's style in some sort of flip that you can't do!
Jason Brown -A huge three sixty with a shifty halfway through. Very stylish, very big!
Jason Brown -He's going to fall on his face! Wait now he is going to do a corkscrew. I don't know what this trick is but it is cool looking, check it out for yourself.
---
Links
Snowboarding Online (This place can be your home it's so big)
Dub Brand Weathergear (cool animations here)
The MountainZone (Snowboarding, biking, climbing, and It has videos too!)
Big Deal snowboard shop (A big online snowboard shop)
Snowboard Trix -A site with videos and explanations how to do tricks.
Mt. Hood Snowboard camp -I went here one year and it was so fun. If you can afford it I recommend that you go. Regardless of your age you will have a great time.
Snowboard Companies:
Airwalk, Burton, Ride, GNU, K2, DCShoecousa, Lamar, Morrow
---
Skateboard Artwork Home Music Links Real Audio
If you have a snowboard page that you want me to link to, leave your http:/ address in my guestbook. If you enjoy this page, please steal this banner and link to me!

Note: This superfly background was made by me using Adobe Photoshop.
Updated: 6/8/99